It's mango season here and my heart can't stop dancing! This king of fruits has all our heart and we just can't get enough of it!
Do you love mangoes as much as we do? Then you will love spending your time here as I have curated the best of the best mango recipes from your favorite food blogs across the world!
Being brought up in a tropical country where summer means nothing but scorching heat, I could only find my solace in this magnificent fruit during the hot months when I was a child. As I grew up, my love for mangoes has only taken a steep upward curve!
Bangalore is known for its cooler weather compared to other big cities, but that doesn't stop us from loving this beautiful fruit. When I was a kid, I only savoured mangoes as a plain cut fruit, but as I explored more food blogs, I came across hundreds of ways in which you can enjoy this king of fruits.
Few years back, I made a no bake mango cheesecake which was showered with immense love from all of you. So today while I was collating all the must try mango recipes for myself, I thought why not share it with you all as a token of gratitude!
I have picked up 20 best mango recipes which you must try this mango season! You will get all possible things you can make using mangoes starting from mango lassi, mango mousse, mango kulfi to mango popsicle! Also few savory recipes using ripe mangoes.
Most of the recipes that I selected today are using ripe mangoes, with only couple of them using the green or raw mango. If you are interested in more raw or green mango recipes, let me know in the comment below and I will come up with best recipes using raw mangoes.
Now let's dive right into the recipe galore! Just note that there is no method to this madness! The recipes are all arranged randomly!
No-bake Mango Cheesecake
If I may, can we first look at the beautiful no bake mango cheesecake which I mentioned above? This is a beautiful piece of cake that is easy to put together as you don't need to bake it. Only difficult part in its recipe is the waiting time! You really need to hold your horses while the cake is chilling in the refrigerator!
Check out the no bake mango cheesecake recipe here!
Mango Mastani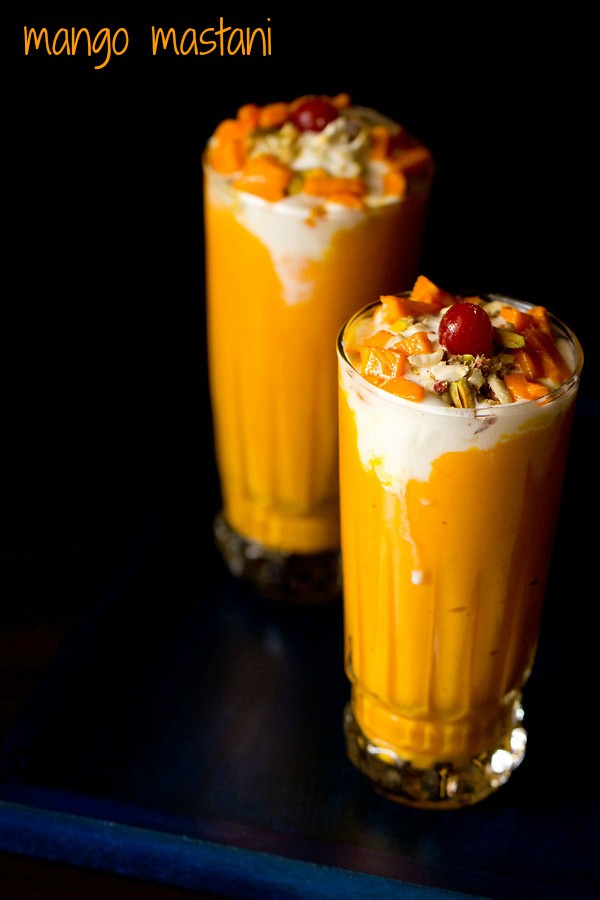 Mango mastani, is a popular drink in Pune and as rightly described by Dassana Amit in her super popular blog Veg Recipes of India, is more than a simple mango milkshake which got a 'grand makeover and turned into a soul-satisfying dessert' and I can't agree more!
The name itself stirs a curiosity in me and since I don't have any plan to visit pune in recent future, I am definitely gonna try this at home! You should too!
Get the recipe of mango mastani here!
Mango Kulfi
Kulfi is my husband's favorite dessert. Usually you will get pista or any other variety of kulfi throughout the year; but I am not a fan of kulfi unless it is a mango kulfi! Mango makes everything crave-worthy!
You must try making mango kulfi at home this summer simply because I have a very effective recipe for you from Shweta from her wonderful blog Shweta in the Kitchen. The pictures of her mango kulfi are so stunning, you will keep drooling at them for hours, trust me!
Check out her mango kulfi recipe here!
Mango Bars
Mango bars are like frozen mango milkshake to me! This was my favorite kind of ice cream when I was a little kid. I could never chose any other ice cream when this mango bar was on the menu. That time I didn't know that we can make such wonderful things at home too!
But now I know I can! You can too! Check out this tempting mango bar recipe from Ruchi's Kitchen blog. She has shared step by step process with clear pictures of making these enticing mango bars which you can make too this summer!
Check out her mango bar recipe here!
Mango Lassi
Lassi is a true summer delight! It is so cooling that you would feel to have only the chilling lassi during the hot summer. Now give makeover to your regular lassi by adding the chunks of mangoes and you have the king of lassi at your disposal!
Making mango lassi does not require any additional effort. Just add the mango pieces into your regular lassi while churning it in the blender. This is also a great drink to serve your guests; make it grand by adding few strands of saffron as done by Shruthi in her blog Urban Farmie!
Check out her easy and delicious recipe of mango lassi here!
Mango Mousse (No-Gelatin)
Mousse is my kind of dessert because of its rich and creamy texture having a melt-in-mouth experience that you don't get with any other dessert. I do make mango mousse at least once every summer, but could never get a chance to capture it in camera! But I have this stunning mango mousse recipe from Khusboo who blogs at Crave your Craving!
Mango is the perfect fruit to make a mousse with because of its creaminess which gives the mousse the perfect consistency. And the recipe that I have selected for you is also free of gelatin, so it's a total vegetarian's delight!
Check out the beautiful vegetarian mango mousse recipe from Khushboo's blog here!
Thai Mango Salad
Let's check out a raw or green mango recipe, shall we? This Thai mango salad has become very popular since I had shared it couple of years ago. This was a new way of savoring raw mango for us and it simply blew our mind!
Only thing you need to be doing to make a soul satisfying salad is to let it chill for good amount of time before you dig in. The flavors take time to mingle with each other; so make it a day ahead for best result.
Get the recipe of Thai mango salad here!
Mango Chia Seed Pudding
Chia seeds are my recent favorite and have become my best friend in no time. I love to have my breakfast oats with generous serving of chia seeds. When you are so fond of this magic seeds, then chia seed pudding is a must try especially in the mango season because the combination of sweet mangoes with plumped up chia is just mind-blowing.
If you are trying the mango chia seed pudding for the first time, I have the perfect recipe for you from the beautiful blog Passionate About Baking by Deeba Rajpal. Check out her recipe here and keep drooling at the magnificent photos!
Mango Phirni
The celebratory Indian dessert phirni signifies happiness and prosperity and when you see the beautiful mango phirni made my Neha in her blog Whisk Affair, you will instantly fall in love with this Indian delicacy!
As she rightly put in her blog that mango phirni is a delicious fruity twist on the classic Phirni recipe, this dessert is a must must try this summer!
Check out her mango phirni recipe here!
10. Mango Shrikhand
When I tried shrikhand for the very first time many years ago, honestly I didn't like it. It was a store bought shrikhand and not freshly made. So I know where I went wrong.
If you want to enjoy shrikhand you should make it fresh at home and with this fantastic recipe from Ministry of Curry run by Archana, you should be able to do it easily! I am definitely going to make this again soon!
Check out her mango shrikhand recipe here!
11. Mango Ice Cream (No Ice Cream Maker)
I am sure you have had your fair share of mango ice cream during your childhood! But imagine the joy of making that delicious creamy mango ice cream at home! You will feel just out of the world!
And if you have kids at home, they will be overjoyed too! This homemade mango ice cream recipe comes from one of my favorite food bloggers Nagi whose blog Recipe Tin Eats is nothing less than a treasure island!
Best thing about this mango ice cream recipe is that you won't need a fancy ice cream maker for this! Check out her recipe here!
12. Eggless Mango Cake
If you are not a fan of cheesecake, then I have the perfect mango cake recipe for you from Sandhya of Sandhya's Kitchen. This is an impeccable no-fuss mango cake recipe which you must try making at home.
This is a perfect mango cake recipe to enjoy at home as it does not come with any extra whipped cream or topping. You get the pure bliss of cake flavored with our very favorite mango!
Check out her eggless mango cake recipe here!
13. Chicken Mango Salad
With so many desserts and sweets recipes using mango, you must be wondering why we can't have a savory recipe using mangoes! So here is your wish coming true!
I have a fantastic summer lunch recipe for you from the super popular blogger and YouTuber Natasha from Natasha's Kitchen! Her chicken mango and avocado salad is a total winner which you can enjoy this whole summer.
Check out the recipe of chicken and mango salad along with the gorgeous pictures here!
14. Mango Milkshake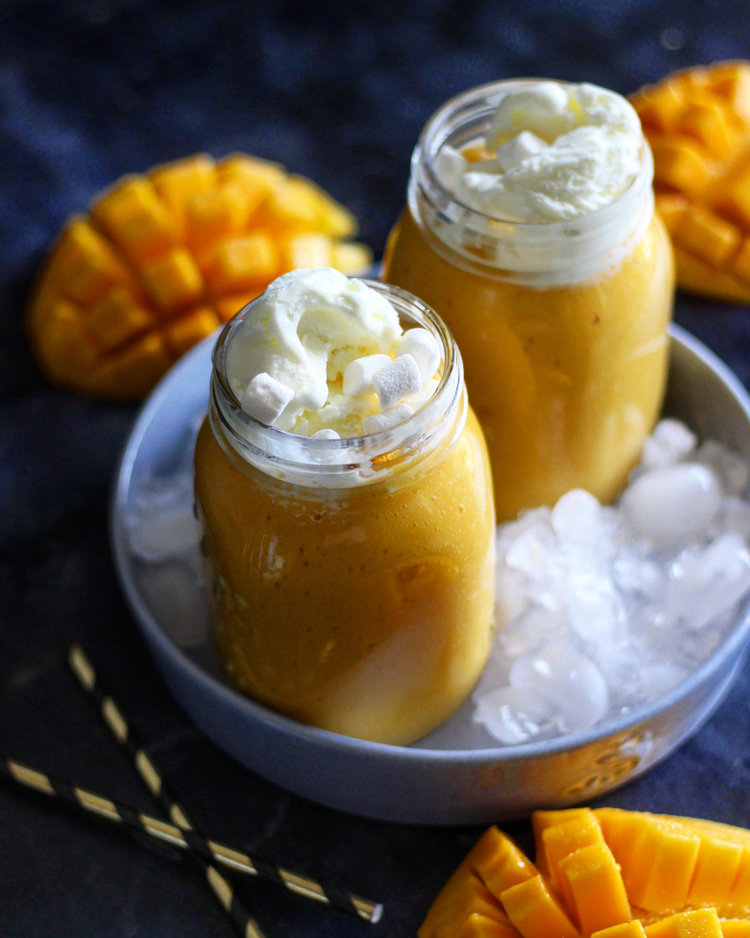 If you want to enjoy summer like a kid, a glass of fresh mango milkshake is what you need! Mango milkshake can be the refreshing breakfast on the go for a busy weekday morning. Just whiz it up and you are good to go!
To sweeten you mango milkshake try using maple syrup instead of sugar; the flavor of maple syrup compliments mango flavor beautifully and you won't be able to help but asking for an extra glass as rightly said by Shivesh from his stunning blog Bake with Shivesh!
Check out his mango milkshake recipe here!
15. Raw Mango Rasam
Since the time we are in South India, we have loved a good bowl of rasam. Rasam is a side dish enjoyed with rice or just on its own. It cools your body during the hot summer.
An upgraded summer version of regular rasam is this raw mango rasam which you must try this season. Raw mango is known to have cooling property which is why it is so well loved across India.
I have this fabulous raw mango recipe for you from Neha again from her beautiful blog Whisk Affair! Check out her raw mango rasam recipe here!
16. Mango Salsa
Planning a party with friends or have a potluck to attend? Then this mango salsa is the perfect appetizer or party food to make for a crowd! The combination of sweet mango with a kick of heat from peppers and crunch from onion, it's just a flavor bomb in your mouth!
Make sure to make a big batch because this baby ain't going to last long! And I have the best fresh mango salsa recipe from Kate's blog Cookie + Kate for you! Check out the recipe of mango salsa here!
17. Mango Tart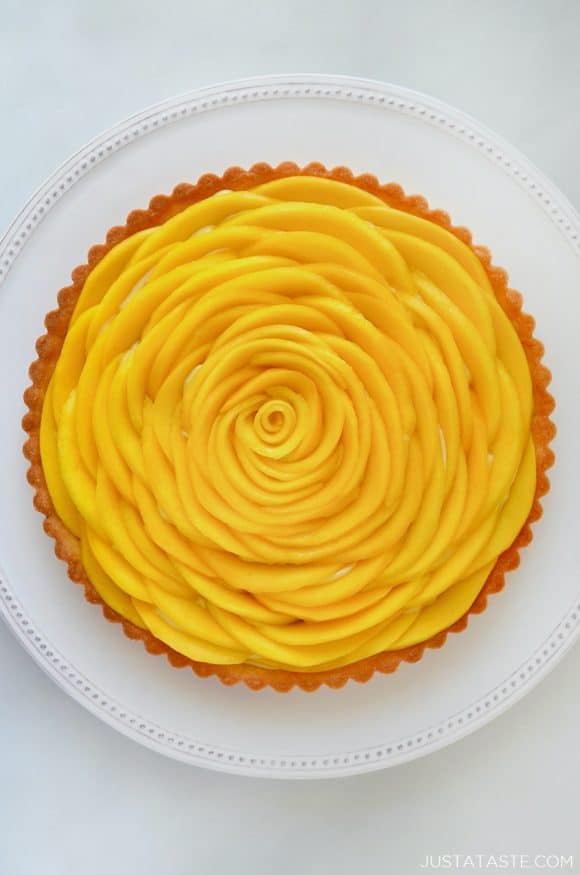 Do you want a showstopper on your dinner table? Mango is one such fruit which can make easy going everyday recipes that are effortless and at the same time can help you make a stunner which will skyrocket your culinary fame!
One such eye candy recipe is this mango tart from the super popular blogger Kelly whose blog Just A Taste hoards thousands of beautiful recipes for you to explore. Of course, this stunning piece of art will require some effort and patience, but it will be all worth it!
Check out the recipe of mango tart here!
18. Aam Panna
If you are an Indian, I am sure you would have relished a cool glass of aam panna every summer. This is one drink which I used to look forward to as soon as summer starts. This is an excellent cooler which beat the scorching heat as soon as you gulp it down.
This beautiful green drink is a must-try if you haven't already tried it. I am sure you will thank me later. Try out this easy and wonderful recipe by Ruchi from Ruchi's Kitchen. Get the recipe of aam panna here!
19. Mango Banana Smoothie
When you think about mango recipes, then the list won't be complete without a good old mango smoothie! Mango is a perfect fruit to make smoothie thanks to its creamy texture. Use frozen mangoes and you will love your smoothie even more!
You can make even a healthier smoothie using both mango and banana by using this recipe from Marsha of Marsha's Baking Addiction. As she describes it as 'A deliciously thick and creamy banana smoothie that is also bursting with mango flavor. Makes for a quick healthy breakfast, and only requires 5 simple ingredients!'
Check out her banana mango smoothie recipe here!
20. Mango Popsicle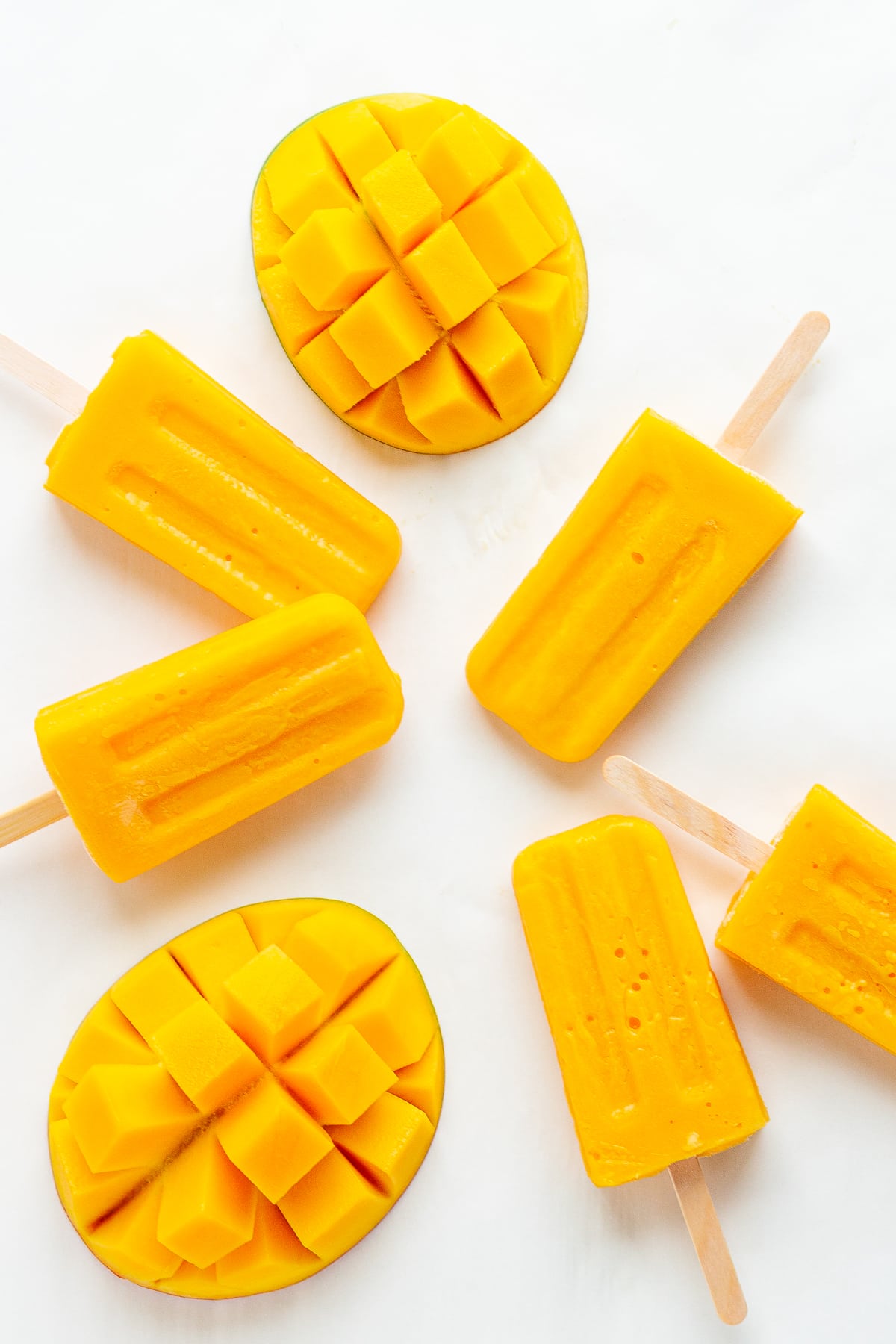 You don't need to be a kid to enjoy a good popsicle! Mango popsicle has always been my favorite and I can give up any dessert except this orange stick of wonder! Popsicles are best thing in hot summer and when you make it at home, it feels even zillion times better.
There are so many different shaped moulds available these days that you will be spoilt for choices. And best part is, I have 2 recipes for you to make these soothing mango popsicles at home!
First recipe is from the beautiful blog Maple + Mango run by Vanessa. Check out her recipe here.
Second recipe is from Nolwenn who shares her beautiful recipes at Blooming Nolwenn. Check out her mango popsicle recipe here!
And that's all folks! Hope this recipe round up will help you enjoy this summer with mangoes more than you thought it would! I would love to hear from you what's your favorite way of enjoying mangoes. Drop in your comments below!